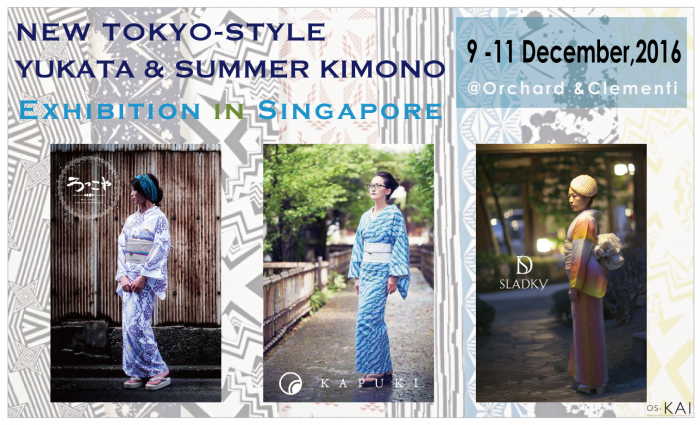 We are here to present
a new Tokyo-style kimonos to the world.
Living in foreign country, you might only be wearing KIMONO in such occasions:
YUKATA, a casual robe at summer festival.
Formal, traditional KIMONO at special events
like Japanese day, tea ceremony and ikebana flower arrangement.
In Tokyo…
more people are enjoying KIMONO as a fashion,
like wearing YUKATA as a summer dress.
Our hope is that you enjoy KIMONO the same way as we do.
Enjoy the modern, stylish KIMONO in every corner of the world.
世界中で活躍する日本の女性、男性にむけ、
東京の新しいキモノスタイルを発信していきます。
まずは、シンガポールの皆様へ。
浴衣/YUKATAと言えばSummer Festival/お祭り
をイメージする方が多いと思います。
が、浴衣/YUKATAをサマードレスとして
ファッショナブルに着こなす日本の都会の女性達。
海外でも同じように着こなしてほしい。
ドレスコード「Smart Casual」「Casual Elegant」なシーンでの
サマードレスとしての浴衣/YUKATA。
私達は、新しい、スタイリッシュなKIMONOの着こなしを
世界に住む日本人の皆様に提案します。
[DATE]
9 Dec. / 10:00-17:00 @Orchard
10 Dec. / 13:00-17:00 @Orchard
11 Dec. / 11:00-15:00 @Clementi
[Special Seminar]
9 Dec./ 11:00~11:30
11 dec./ 13:00~13:30
*Free of charge


[Brands]
大人の女性に人気のKIMONOブランドを
シンガポールに!
KAPUKI / ROCCOYA /SLADKY / Avales
HARENOUSAGI / ecoRAL / KIMITO

[Place]
@Orchard
8 Scotts Road, #8th Floor/Function room, Scotts Square Residences
Singapore 228238
(On entering the property, please tell the security  "KIMONO" )

@Clementi
"Communal Hall" Geranium Block #01-01,, 101 Clementi Rd, Kent Vale,
Singapore 129787
 for more info 
see Facebook Event